Bathroom Safety in Jacksonville, Florida
Make Your Jacksonville Bathroom Safer with a Walk in Tub. Bathroom falls in Jacksonville, Florida are common, and the frequency is increasing each year. Falling threatens an individual's health and independent living. Falls can significantly impair a person's ability to remain self-sufficient in their own home. The Center for Disease Control reports that 1 in every 3 adults over the age of 65 falls each year. Over 25% of these falls result in moderate to severe injuries that include bone fractures, brain injuries and internal injuries. Most falls happen within the home.
---
Call for a FREE Quote
---
How Independent Home Products, LLC Keeps People Safe With Walk in Tub & Shower Installations in Jacksonville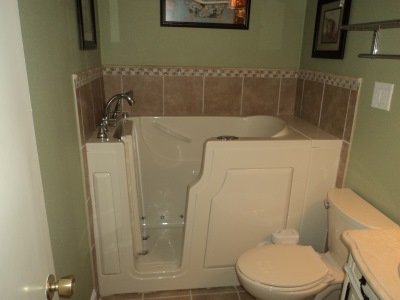 All of the staff at Independent Home Products, LLC are caring experts in bathroom safety. The safety of our customers is our number one priority as we design and manufacture walk in bath tubs for Jacksonville, FL residents. Each walk in tub is custom molded in our own facility to fit your needs. Wider models are available for full figured clients.
Our Jacksonville walk-in tubs offer the following safety features:
Low threshold for easy entry and exit
Wheelchair accessibility
Grab bars
Comfortable seating
Power speed drain – drains in 1-2 minutes!
Temperature controlled – allows you to set a maximum temperature
How to Prevent Falls in Your Jacksonville Bathroom
Remove objects that can be tripped over
Keep the bathroom floor dry
Install grab bars in the shower, tub and next to the toilet
Use non slip strips on shower floors and bathtub floors
Improve your restroom lighting
Keep items in cabinets and closets within easy reach
Use a rubber backed bath mat outside of the shower or tub
Cap Thermostat to keep water temperatures below 115 Degrees
---
Call for FREE Bathroom Safety Quote
Dial Area Code first please.
---
WHAT CUSTOMERS ARE SAYING:
5★★★★★ - "Independent Home was absolutely great when I got a call from them. The sales rep was wonderful and very polite. They had to cut the bathroom door to a bigger size 'cause we had an older, manufactured home. They put a new door in, cleaned up everything and put the tub in. Everything was perfect. The new walk-in tub was for my husband. But he injured his leg the day that they were putting that in and we were having a hard time getting it healed up. So he has only used it a couple of times but he loves it already. He has a very limited walking ability. So it's much better for him to get into that walk-in tub. He can clean himself and it's safer than trying to stand up in our regular shower."

Janice, Bathroom Safety in Riverview, FL

2020-12-10

5★★★★★ - "The sales rep was good and purchasing the tub was easy. The installers were professional and the quality of their work was very good. I like that I can get in my Independent Home tub. I couldn't get in and out of the other one."

Joe, Walk In Tubs in Ocala, FL

2021-02-18

5★★★★★ - "My husband had done some research looking for a walk-in tub. He is an amputee and he felt that's the type he wanted. The sales rep that we dealt with was good. He was informative and he told us everything about the tub. The installation went very well and my husband loves the tub. But on my point, I'm a shower-type person and I don't particularly like to sit to do it. So it's a little confining for me."

Janice, Walk In Bathtub Installation in Clearwater, FL

2020-12-24

5★★★★★ - "We had a sales representative come to the house who didn't give me a very impressive presentation. In fact, I was so put off by it that I called the home office to let them know that I didn't have a good experience with the home presentation. In the process of discussing that, I ended up getting a very good price to buy the tub. I spoke with the office manager out in Arizona who apologized for the presentation mistake, gave me the pricing on it, and made the arrangement to have the sale completed. That's why we ended up going with Independent Home. The installation was great. The fella did excellent work and I'll give him 110%. All things considered, everything went pretty well and we're enjoying the tub."

Frances, Walk In Tubs

2020-11-12

5★★★★★ - "Independent Home did a great job. The two contractors they sent a month ago were nice and good guys. I would recommend them, they were great."

Bruce in Lake City, FL

2016-09-07

5★★★★★ - "My son, Chris, got a walk-in bathtub from Independent Home and I saw it. I then compared it with others to see if it's as good as his. I called Cameron, the tech guy and he took care of the purchase right off the bat. The installation team came in at eight o'clock and was out by 1:30. They worked as a good team and had to work with me because I have an electrical door and we had to move it out. They did a good job and I'll definitely recommend them."

Ralph in Niceville, FL

2016-09-07

5★★★★★ - "We got a Celebrity bathtub as that was the only one that would fit. I had no problem purchasing it and the experience wasn't too bad. The people who came over to install it were knowledgeable and courteous. They came and did what they had to do and everything went alright. They were around for about 12 hours that day. They left a bit of mess but I had somebody clean it, anyway. They also had to cut a section of the wall out to get the tub in. I'm just waiting for them to come over and take care of something, but other than that, I don't have any problem with it."

Steven in Sunrise, FL

2016-09-07

5★★★★★ - "I had talked to someone a couple of years ago to have walk-in bathtub installed in my parent's mobile home and I was thinking that Independent Home might have been the same dealer I dealt with before, but as it turned out it wasn't, so it's a fluke. I found about Independent Home on the internet. My experience with them was pretty straightforward and easy. Their installation team was awesome."

Henry in Cantonment, FL

2016-09-07

5★★★★★ - "Indpendent home has a nice wheelchair accessible walk in tub that works perfectly for me. Bathing is so much easier now!"

Robin

2015-04-15

5★★★★★ - "Can't say enough good things about these guys. The even did some nice tile work and added some other safety grab bars in my bathroom. I love my walk in tub!"

Rosemary

2015-04-15

5★★★★★ - "My father just turned 75 years old so we purchased the walk in tub from Independent Home. Best price, quality and warranty."

Hugh

2015-04-15

"I was having muscle pain and really wanted to take a bath again. I was unable to bath for over 20 years and use my walk in tub 4-5 times a week. I can now relax and enjoy bathing without worrying about falling."

Richard, Gainesville, FL

5★★★★★ - "I had my Celebrity Model walk in tub installed and am loving it! I wanted to use the tub as a shower and had glass doors put on. This was the tub she dreamt about! This is right hand door configuration with an acrylic wall surround. I had a 1 piece tub and shower that they replaced in just 2 days."

Virginia May

2013-11-06
---
Call for FREE Bathroom Safety Quote
Dial Area Code first please.
---