Walk In Bathtubs FAQ in Clermont, FL
Do you have questions about purchasing a walk-in bathtub in Clermont or a walk in shower? We get phone calls each day from folks who want to purchase a walk in bathtub in Clermont but just don't know where to start. Because walk in tubs aren't as popular as standard tubs, and because showrooms aren't readily available in Clermont, walk-in tub fact-finding can be overwhelming. The best place to search for walk in bathtub and walk in shower information is online or over the phone. For more information on Independent Home Products, LLC's walk in bathtubs, installed in all of Florida, simply call (888) 365-1084 or see answers to FAQ below.
Below are questions we are asked (FAQ) about our custom walk in tubs and showers: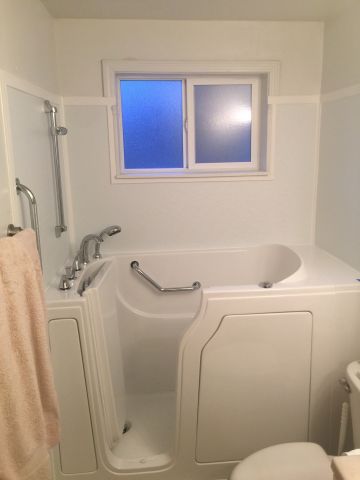 What size walk in bathtub do I need? Unless you require a walk in tub to fit a full-figured person or have a smaller than normal space in which to install a walk in (but don't worry, we have a solution for that, too), you will be able to find an Independent Home Products, LLC walk in bathtub that will fit your space. Our Clermont walk in bathtubs fit into any standard sized tub opening. The most popular choice that we offer is 30" x 52". It is designed to fit a standard bathtub/shower stall. This model comes in standard and wheelchair accessible models, and some of our units are also Hoyer-lift capable.
Do you install larger sized walk in bathtubs in Clermont? Independent Home Products, LLC can accommodate full figured people with our 33" x 44" large walk-in-tub for Clermont residents. It is designed for folks who weigh over 300lbs. With this large sized tub, there is a greater space requirement in your bathroom and you might need to upgrade your hot water tank to accommodate the additional size of the tub.
What if I'm not sure what type of walk in tub I need? Not a problem! Independent Home Products, LLC provides free, in-home consultations for walk in tub installations in Florida. Call (888) 365-1084 to schedule a convenient time to meet with a Clermont walk in shower and walk in bathtub installer. We'll take a look at your bathroom and get all necessary measurements. You will be shown options for walk in tubs that will work within your existing space.
What is the difference between standard and wheelchair accessible walk in bathtubs? The difference comes down to the door. Our wheelchair accessible walk in tubs have an outward swinging door, which makes transfers from a wheelchair to the bath bench much easier and safer. Keep in mind, more space will be required for this model than for the standard inward swinging door.
What other features are available on your Clermont walk in bathtubs? Independent Home Products, LLC tubs come with a variety of features for function and comfort. Just a few of the available options include:
Heated seat
Whirlpool & air jets
Chromotherapy lighting
LCD control panel
Aromatherapy
Designer faucet set
Low threshold step in
Extendable shower head
Safety grab bars
FM speaker and radio
Why should I choose Independent Home Products, LLC's walk in tubs? There are many reasons why Independent Home Products, LLC installs the best walk-in bathtub installer in Clermont. All of our tubs are factory tested to ensure they are built to last and have an airtight door seal. All of our walk in tubs and showers are manufactured right here in the United States in our Long Island, NY facility, and then delivered to you for installation. What's more, our customers love them! We have 103 ( and counting) customer reviews, with an average rating of 4.7 of 5 stars. Call (888) 365-1084 today and experience our superior customer service, attentive staff and quality Clermont walk in bathtub installation crews.
Independent Home Products, LLC installs superior walk in bathtubs in all of Florida. Call (888) 365-1084 for a free consultation.
WHAT CUSTOMERS ARE SAYING:
5★★★★★ - "Independent Home did a great job. The two contractors they sent a month ago were nice and good guys. I would recommend them, they were great."
Bruce in Lake City, FL
2016-09-07
---
5★★★★★ - "My son, Chris, got a walk-in bathtub from Independent Home and I saw it. I then compared it with others to see if it's as good as his. I called Cameron, the tech guy and he took care of the purchase right off the bat. The installation team came in at eight o'clock and was out by 1:30. They worked as a good team and had to work with me because I have an electrical door and we had to move it out. They did a good job and I'll definitely recommend them."
Ralph in Niceville, FL
2016-09-07
---
5★★★★★ - "We got a Celebrity bathtub as that was the only one that would fit. I had no problem purchasing it and the experience wasn't too bad. The people who came over to install it were knowledgeable and courteous. They came and did what they had to do and everything went alright. They were around for about 12 hours that day. They left a bit of mess but I had somebody clean it, anyway. They also had to cut a section of the wall out to get the tub in. I'm just waiting for them to come over and take care of something, but other than that, I don't have any problem with it."
Steven in Sunrise, FL
2016-09-07
---
5★★★★★ - "I had talked to someone a couple of years ago to have walk-in bathtub installed in my parent's mobile home and I was thinking that Independent Home might have been the same dealer I dealt with before, but as it turned out it wasn't, so it's a fluke. I found about Independent Home on the internet. My experience with them was pretty straightforward and easy. Their installation team was awesome."
Henry in Cantonment, FL
2016-09-07
---
5★★★★★ - "Indpendent home has a nice wheelchair accessible walk in tub that works perfectly for me. Bathing is so much easier now!"
Robin
2015-04-15
---
5★★★★★ - "Can't say enough good things about these guys. The even did some nice tile work and added some other safety grab bars in my bathroom. I love my walk in tub!"
Rosemary
2015-04-15
---
5★★★★★ - "My father just turned 75 years old so we purchased the walk in tub from Independent Home. Best price, quality and warranty."
Hugh
2015-04-15
---
"I was having muscle pain and really wanted to take a bath again. I was unable to bath for over 20 years and use my walk in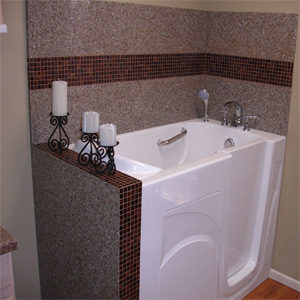 tub 4-5 times a week. I can now relax and enjoy bathing without worrying about falling."
Richard, Gainesville, FL
---
5★★★★★ - "I had my Celebrity Model walk in tub installed and am loving it! I wanted to use the tub as a shower and had glass doors put on. This was the tub she dreamt about! This is right hand door configuration with an acrylic wall surround. I had a 1 piece tub and shower that they replaced in just 2 days."
Virginia May
2013-11-06
---
Call for FREE Walk In Bathtubs FAQ Quote
---