Walk in Showers in Glen Saint Mary, FL 32040
Looking for a Walk-In Shower in Glen Saint Mary, FL? Independent Home Products, LLC has been proudly installing walk in tubs and walk in showers in Glen Saint Mary, Florida since 2007. For over 12 years we have been increasing our customers' bathroom safety and independence by installing walk in showers in Glen Saint Mary.
Our walk in showers are every bit as attractive as they are functional. What's more, when you call Independent Home Products, LLC to install your walk in shower, you'll receive superior customer care and an expert in bathroom safety. Give us a call today for a free walk in shower quote and you'll quickly see why we're the top choice for walk in shower installation in Glen Saint Mary!
Converting Your Standard Tub/Shower in Glen Saint Mary to a Walk in Shower
A Walk-In Shower installed by Independent Home Products, LLC can transform a standard bathroom into a beautiful, safe and fully accessible one. Keep yourself or your loved one living at home where they belong, without the worries of catching a foot on the edge of the tub when entering or exiting the shower. Independent Home Products, LLC can have your walk in shower installed within two days, often in just a few hours! Independent Home Products, LLC takes pride in providing quick and thorough installation, without displacing people from their restrooms.
Designed for your safety and comfort, walk in showers by Independent Home Products, LLC offer:
Custom tile accenting to match your color scheme

Plywood reinforced allows placement of accessories where and when you need them

Authentic look of real ceramic tile without the headache of grout

Flange trim kit that prevents you from having any dry-wall repairs or leaks

Window trim kit that matches and contrasts the color of your bathroom

Leak proof joints that prevent any water damage to occur

Low or standard thresholds depending on your mobility needs
Planning Your Walk in Shower Down to the Last Detail
When Installing a walk in shower in Glen Saint Mary, several factors must be taken into consideration. Placement of drains and shower heads is crucial. If not installed ideally, problems with spraying water onto the bathroom floor can occur. Instead of making your bathroom more safe, water leaving the shower becomes a slip hazard. By installing a walk in shower that correctly directs water efficiently down the drain and placing shower heads where they will drain most directly, we'll prevent those problems. Placement of accessories is another consideration Independent Home Products, LLC will help you with. Whether you want a custom, molded seat built into your walk in shower, or plan to purchase a standard seat, we'll help you figure out correct placement of grab bars and shelves to hold shampoo, soap and other accessories.
When it comes to affordable, safe and high quality walk in showers in Glen Saint Mary, FL, Independent Home Products, LLC is the provider for you!
WHAT CUSTOMERS ARE SAYING:
5★★★★★ - "Independent Home did a great job. The two contractors they sent a month ago were nice and good guys. I would recommend them, they were great."
Bruce in Lake City, FL
2016-09-07
---
5★★★★★ - "My son, Chris, got a walk-in bathtub from Independent Home and I saw it. I then compared it with others to see if it's as good as his. I called Cameron, the tech guy and he took care of the purchase right off the bat. The installation team came in at eight o'clock and was out by 1:30. They worked as a good team and had to work with me because I have an electrical door and we had to move it out. They did a good job and I'll definitely recommend them."
Ralph in Niceville, FL
2016-09-07
---
5★★★★★ - "We got a Celebrity bathtub as that was the only one that would fit. I had no problem purchasing it and the experience wasn't too bad. The people who came over to install it were knowledgeable and courteous. They came and did what they had to do and everything went alright. They were around for about 12 hours that day. They left a bit of mess but I had somebody clean it, anyway. They also had to cut a section of the wall out to get the tub in. I'm just waiting for them to come over and take care of something, but other than that, I don't have any problem with it."
Steven in Sunrise, FL
2016-09-07
---
5★★★★★ - "I had talked to someone a couple of years ago to have walk-in bathtub installed in my parent's mobile home and I was thinking that Independent Home might have been the same dealer I dealt with before, but as it turned out it wasn't, so it's a fluke. I found about Independent Home on the internet. My experience with them was pretty straightforward and easy. Their installation team was awesome."
Henry in Cantonment, FL
2016-09-07
---
5★★★★★ - "Indpendent home has a nice wheelchair accessible walk in tub that works perfectly for me. Bathing is so much easier now!"
Robin
2015-04-15
---
5★★★★★ - "Can't say enough good things about these guys. The even did some nice tile work and added some other safety grab bars in my bathroom. I love my walk in tub!"
Rosemary
2015-04-15
---
5★★★★★ - "My father just turned 75 years old so we purchased the walk in tub from Independent Home. Best price, quality and warranty."
Hugh
2015-04-15
---
"I was having muscle pain and really wanted to take a bath again. I was unable to bath for over 20 years and use my walk in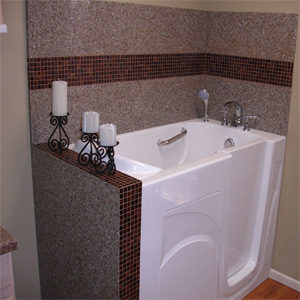 tub 4-5 times a week. I can now relax and enjoy bathing without worrying about falling."
Richard, Gainesville, FL
---
5★★★★★ - "I had my Celebrity Model walk in tub installed and am loving it! I wanted to use the tub as a shower and had glass doors put on. This was the tub she dreamt about! This is right hand door configuration with an acrylic wall surround. I had a 1 piece tub and shower that they replaced in just 2 days."
Virginia May
2013-11-06
---
Call for FREE Walk in Showers Quote
---